REJESTRATOR DŹWIĘKU

SWISSONIC MDR-2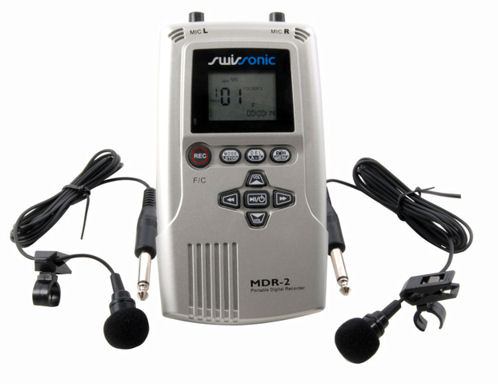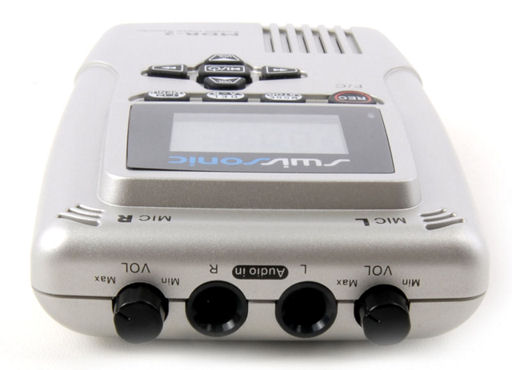 Swissonic MDR-2 Mobile Digital Audio Recorder - 44.1kHz WAV/mp3 stereo recorder with built-in 128Mb flash memory (up to 2 hours of mp3 recording). Card slot for SD cards (16Mb-2Gb) or SDHC cards (4Gb). Built-in stereo condenser microphone plus 2x 1/4" jack inputs for external mic's or guitar and line signals. 1x 1/8" jack headphone output, 1x 1/8" jack line output, integrated mini speaker (0.2watts/8ohm), USB 2.0 interface. Recording formats: WAV (8/11, 16/22, 32/44.1kHz) and mp3 (128kbps). Playback formats: WAV (16,32 and 44.1kHz) and mp3 (32-320kbps). Frequency range: 20Hz-20kHz. Requires 2x AA batteries (for up to 5 hours of recording or 6 hours of playback with headphones). Includes external stereo mic and USB cable. Optional USB DC adaptor (5V) available. Compatible with Windows (XP and Vista) and Mac OSX. Headphones not included.
- Wymiary : 155 x 85 x 30mm.
- Waga : 200g
Nikt jeszcze nie napisał recenzji do tego produktu. Bądź pierwszy i napisz recenzję.
Tylko zarejestrowani klienci mogą pisać recenzje do produktów. Jeżeli posiadasz konto w naszym sklepie zaloguj się na nie, jeżeli nie załóż bezpłatne konto i napisz recenzję.